T229
GWR 2-8-0T 42xx and 2-8-2T 52xx driving wheel.
4′ 7½″ diam., 14 oval spokes, rectangular inner rim,
Hub 11½″ face dia., 15″ at widest, pin between at 15″, 1½″ out from the tyre.
Source: works drg.; Russell, A pictorial record of Great Western Engines, vol. 2, p. 92-95, photographs.
Casting: 46.25 mm tread dia., 39.9 mm i/d., hub 1.2 mm out from the tyre.
Casting prices and stock . GWR loco sets, price list
Scan of a casting in a set for a GWR 2-8-0T 42xx class . GWR 2-8-0 early 28xx class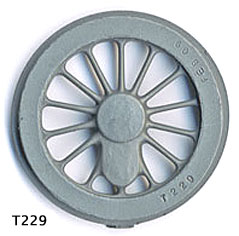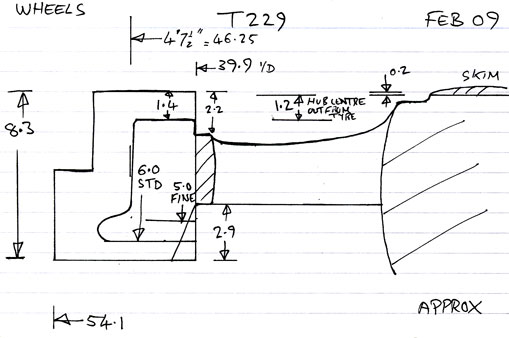 Validated as HTML5
27 Mar 2013