T26
GWR 4-6-0 Saint driving wheel.
(Driven wheel, the coupled wheels have slightly narrower pin bosses.)
6′ 8½″ diam., 22 oval spokes, rectangular inner rim, apparent tread 4″.
Hub 17″ face dia., raised centre is 1″ out from the tyre, pin in line at 15″.
Source: Great Western Society Ltd, drg GW x/200200, 1995, revised 1997.
Casting prices and stock . GWR loco sets, price list
Scans of a casting in a set for a 4-6-0 Saint . 4-4-2 Scot . 4-4-2T County Tanks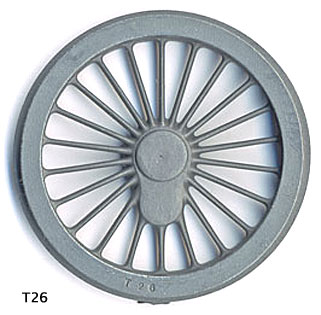 Validated as HTML5
27 Mar 2013