P261, P262
LSWR 4-6-0 N15, King Arthur class driving wheels.
6′ 7″ diam., 22 oval spokes, humped inner rim, 4″ apparent tread, tyre width 5½″,
hub 18″dia., 1″ out from the tyre, pin between at 14″.
Sources: D.L. Bradley, LSWR Locomotives, The Urie Classes page 150 works drawings.
O.S. Nock, The Southern King Arthur Family, pages 31-33, detailed works drawings.
Casting: 62.7 mm tread dia., 56.4 mm i/d., 4.4 mm scale tyre width, hub 0.8 mm out from the tyre, pin at 11.1 mm.
Casting prices and stock . LSWR loco sets, price list
Scan of a casting in a set for a LSWR N15, King Arthur class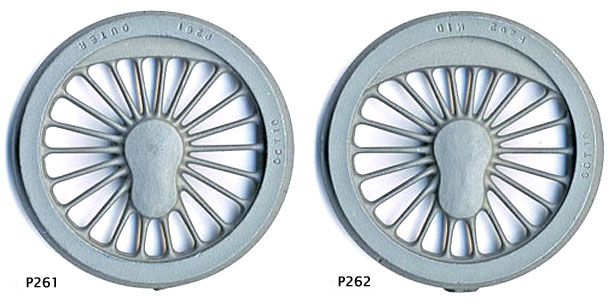 Validated as HTML5
27 Mar 2013