T119, T120
GN 0-6-2T N2 driving wheels.
5′ 8″ diam., 18 oval spokes, rectangular inner rim, apparent tread 4½″.
The balance weight on the driven wheel (middle axle) is correct for the original NBL built locos (Nos 1721-1770), the Doncaster locos (Nos 1606-1615) had slightly shorter, but wider weights.
Hub 17¼″ face dia., 1½″ out from the tyre, pin between at 11″.
Source: No 69523 (originally No 1744)at Weybourne in September 1997.
Castings: 56.7 mm tread dia., 49.5 mm i/d., hub 1.2 out from the tyre, pin at 9.2 mm.
Casting prices and stock . GN loco sets, price list
Scans of the castings in a set for a GN 0-6-2T N2 with prototype photographs.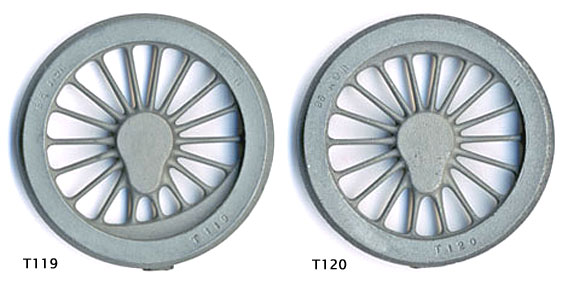 Validated as HTML5
27 Mar 2013