T63
GN carrying wheels.
Trailing wheels for GN No. 1 until rebuilt in 1880 with 4′ 7″ trailing wheels.
4′ 1″ diam., 12 rectangular spokes, rectangular inner rim, apparent tread 3½″, tyre width 5¼″.
Hub 13″ face dia., 2″ out from the tyre.
Sources: measurements direct from preserved loco No. 1 at NRM, York, June 1995.
The Stirling Singles, Leech and Body, David and Charles (1965): p. 52, photo of No 1 as built in 1870.
Great Northern Locomotive History, RCTS., vol. 2 page 164. (Wheel diameters).
Casting: 40.8 mm tread dia., 35.0 i/d., hub 1.6 mm out from the tyre.
Casting prices and stock . GN loco sets, price list
Scan of a casting in a set for a GN 4-2-2 with prototype photographs.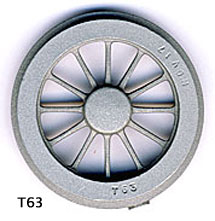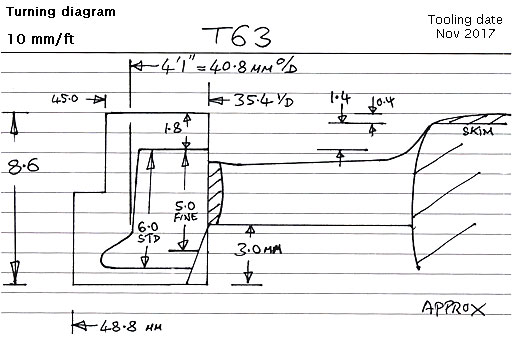 Validated as HTML5
27 Mar 2013