P254, P255, P256
Netherlands SS700/NS3700 class 4-6-0 driving wheels.
6′ 0¾″ diam., 18 oval spokes, rectangular inner rim, apparent tread 4″, tyre width 145 mm.
Hub 14½″ face dia., 15 mm out from the tyre, pin between spokes. Note that the coupling rods have one inch less throw than the connecting rods: the driven wheel pin is off-set at half way, driven wheel pin inner half at 12″, outer half at 13″, coupled wheels pins all at 12″.
Sources: works drawing for left hand drive Nos 695-766, photographs.
Castings: 57.8 tread dia., 51.5 i/d, hub 0.5 mm out from the tyre, pin at 9.53 mm.
Tyre width for scale modellers: 4.53 mm at 1:32 scale.
Casting prices and stock . Netherlands, loco sets, price list
Scan of a casting in a set for a Netherlands SS 700/NS 3700 class 4-6-0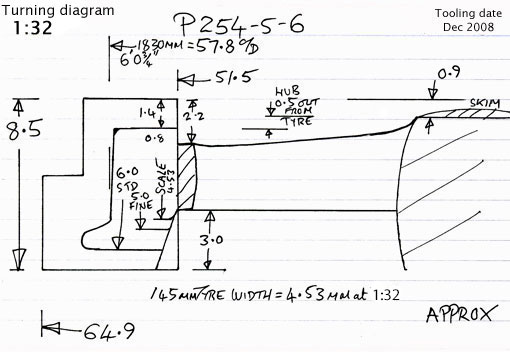 Validated as HTML5
27 Mar 2013