X369
Mansell coach wheel.
3′ 7″ diam. Wooden blocks held between outer metal rings and inner discs.
Hub 9½″ diam, 1″ out from the tyre.
Source: G.A. drawing
Casting: 48.3 mm tread dia., 42.5 mm i/d., hub 1.1 mm out from the tyre.
5″ tyre width at this scale = 5.6 mm.
Gauge 3 loco and wagon set prices . Casting prices and stock
Bare weight c. 100 gr. each, 400 gr./set of four.
Suitable for the Gauge 3 Society 2010 minimum tyre width of 6.8 mm, or the earlier standard of 8.0 mm.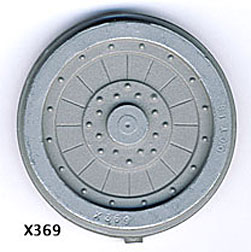 Validated as HTML5
8 Oct 2018