X293
Contractors' Loco. Hunslet 0-6-0ST Linden class
3′ 1″ diam., 10 oval spokes, weights cast-in across the spokes, apparent tread 2¼″.
Hub 11¼″ face dia., ¼″ out from the tyre, pin in line at 7½″.
Sources: works drawings and photographs.
Casting: 41.6 mm tread dia., 36.5 mm i/d., skim the tops of the small bosses, pin at 8.4 mm. Weight c. 100 gr.
Gauge 3 loco set prices . Casting prices and stock
Suitable for the Gauge 3 Society 2010 minimum tyre width of 6.8 mm, or the earlier standard of 8.0 mm.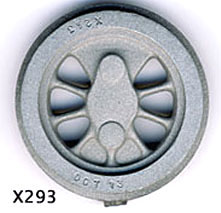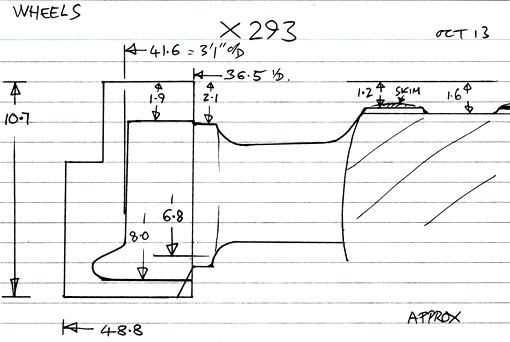 Validated as HTML5
31 Oct 2013