X277
Stockton and Darlington, Derwent driving wheel
4′ 0″ diam., plug type wheel, apparent tread 3½″.
Hub 10½″ face dia., 1.3″ out from the tyre, pin between at 12″.
Sources: published dimensions and photographs.
Casting: 53.9 mm tread dia., 46.1 mm i/d., hub 1.5 mm out from the tyre, pin at 13.5 mm.
Gauge 3 loco set prices . Casting prices and stock
Scan of a casting in a set for S & D Derwent.
Suitable for the Gauge 3 Society 2010 minimum tyre width of 6.8 mm, or the earlier standard of 8.0 mm.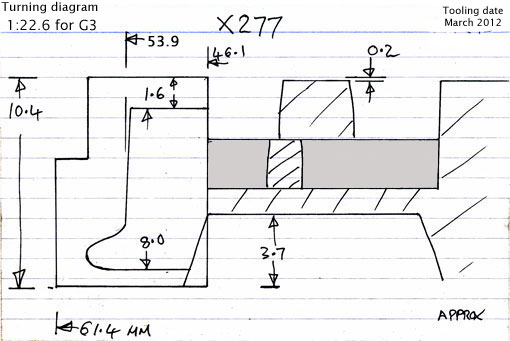 Validated as HTML5
27 Mar 2013