X38
L.M.S. Tender wheel, suitable for Black Five, Duchess etc.
4′ 3″ diam., 12 oval spokes, vee inner rim, 4″ apparent tread, 6″ tyre width.
Hub 16″ dia., ½″ out from the tyre.
Source: Duchess of Sutherland measured direct at Bressingham, Oct 1994.
Casting: 57.3 mm tread dia, 48.3 i/d, hub out 0.8 mm from the tyre.
6″ tyre width at this scale = 6.74 mm.
Gauge 3 loco set prices . Casting prices and stock
Scan of a casting in a set for a LMS 4-6-2 Duchess . LMS 4-6-0 Jubilee
Suitable for the Gauge 3 Society 2010 minimum tyre width of 6.8 mm, or the earlier standard of 8.0 mm.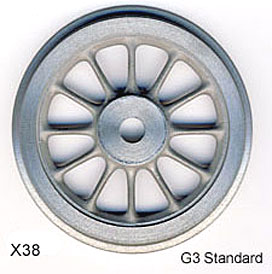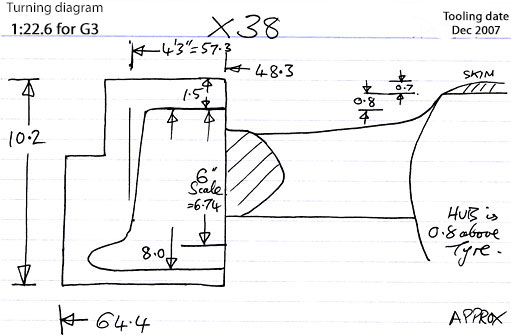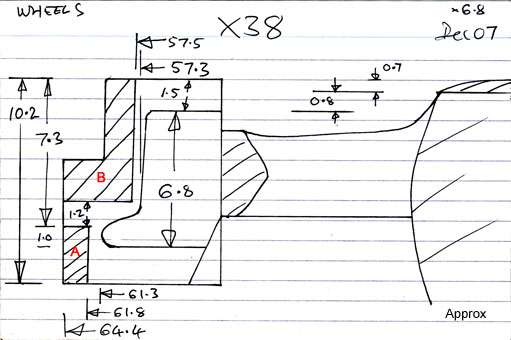 Diagram showing safe areas for work holding for machining with a form tool for 6.8 mm wide tyres.
A
is the first cut.
B
is the second cut before facing the rest of the front.
Then bore the axle hole before reversing the work in the chuck and facing the back.
Then form the tyre by your preferred method.
Validated as HTML5
27 Mar 2013