X23
LSWR bogie wheel.
3′ 7″ diam., 10 oval spokes, humped inner rim, apparent tread 4″, tyre width 5 7/16″ .
Hub 13½″ face dia., ¼″ out from the tyre.
Sources: Preserved T9, No 120 measured direct at the Bluebell Railway, August 1994.
O.S. Nock, The Southern King Arthur Family, page 31, detailed front view works drawing, including tyre width.
Casting: 48.3mm tread dia., 39.2 mm i/d., hub 0.3 mm out from the tyre.
Tyre widths for exact scale models at 1:22.6, 6.1 mm.
Gauge 3 loco set prices . Casting prices and stock
Scan of a casting in a set for LSWR 4-4-0 T3
Suitable for the Gauge 3 Society 2010 minimum tyre width of 6.8 mm, or the earlier standard of 8.0 mm.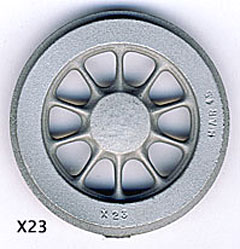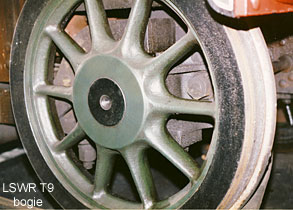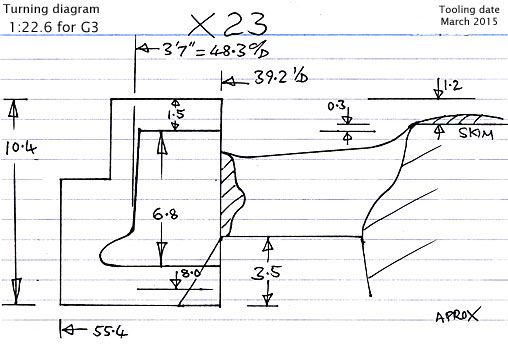 Validated as HTML5
25 Jan 2015