C254, C255, C256, C348
Dutch State Railways 700 class 4-6-0 and 1200 class 4-6-4T driving wheels.
1850 mm, 6′ 0.8″ diam., 18 oval spokes, rectangular inner rim, apparent tread 4″, tyre width 145 mm.
Hub 14½″ face dia., 15 mm out from the tyre, pin between spokes. Note that the coupling rods have one inch less throw than the connecting rods: the driven wheel pin is off-set at half way, driven wheel pin inner half at 12″, outer half at 13″, coupled wheels pins all at 12″.
Sources: works drawing, photographs.
Castings: 41.1 mm tread dia., 36.6 i/d, hub 0.3 mm out from the tyre, pin at 6.9 mm.
Casting prices and stock . Netherlands, loco sets, price list
Scans of castings in a set for a Dutch State Railways 700 class 4-6-0 and in a set for NS 1200 class 4-6-4T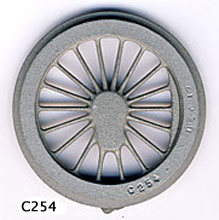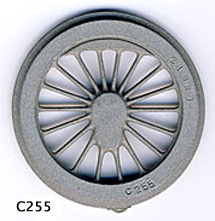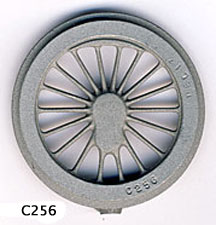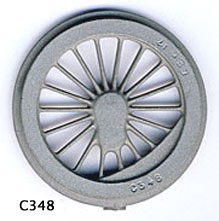 Front driver Mid driver Rear Driver Front driver, 1200 class
Validated as HTML5
9 Sept 2017