B357, B358
GC 0-6-2T 9C/9F/9O, LNER N5 driving wheels
5′ 1″ diam., 15 spokes, rectangular inner rim, apparent tread 5″.
Hub 15½″ face dia., pin between at 11″, hub is 2″ out from the tyre.
Sources: Beyer Peacock Works drawing.
E.M. Johnson, Locomotives of the Great Central Railway, 1: 19-26, Irwell Press (1989).
Casting: 35.6 mm tread dia., 29.8 mm i/d, hub level 1.2 mm out from the tyre, pin at 7.0 mm.
Casting prices and stock . LNER loco sets, price list
Scans of castings in a set for: GC 0-6-2T 9C/9F/9O, LNER N5.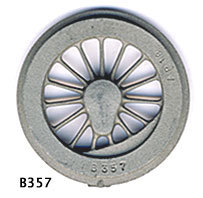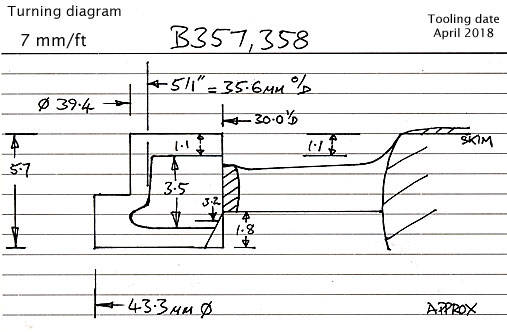 Validated as HTML5
8 Mar 2018