B185
GWR 4-6-0 Star driving wheels.
6′ 8½″ diam., 22 oval spokes, rectangular inner rim, 4¼″ apparent tread.
Hub 17″ face dia., 3″ out from the tyre, pin in line at 13″.
Sources: O.S. Nock, British Locomotives of the 20 th Century, vol. 1, page155. Reduced works drg. of Star class.
Casting: 47.0 mm tread dia., 41.8 mm i/d., hub 1.75 mm out from the tyre, pin at 7.6 mm.
Casting prices and stock . GWR loco sets, price list
Scan of the castings in sets for a GWR 4-6-2 Great Bear, 4-6-0 Star, 4-4-2 North Star.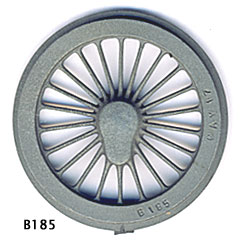 Validated as HTML5
27 Mar 2013